Have you heard the news? Target is pairing up with Neiman Marcus and some fabulous designers to bring their newest collection. Not only do we get to see amazing housewares by designers such as Diane Von Furstenberg, but we are privy to clothing collections by Marchesa as well! Take a look at what they're offering.
(All photos courtesy of Vogue Magazine online by Tim Hout)
So, want to play along with me? Just follow the directions and be a part of the fun!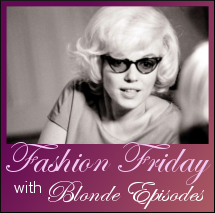 1. Blog about anything fashion related (please make sure its a current post from today forward, and only link back to one of your posts)
2. Grab my button above and mention Blonde Episodes
3. Add your link to the link up
4. Leave me a comment letting me know you were here
5. Visit other blogs on the link up and make new friends!