It's Fashion Friday! It's pouring here in California, and I'm listening to the rain as I'm writing this post. I love the rain. It makes me want to stay inside all day, watch movies, and veg. The only missing is my gorgeous boyfriend :-(.
With the rain, comes the beanies. I'm so inspired every day by my students and their fabulous fashion sense. Today, there were plenty of adorable beanies and caps all around campus. The beanie is universal. People wear them all year round, but now's the perfect time to keep those ears warm. Take a look at some of my favorites from Pinterest.
All images courtesy of Pinterest
So, want to link up with me? Just follow the directions below and be a part of the fun! Please follow all instructions, so I don't have to be a meanie and delete your link.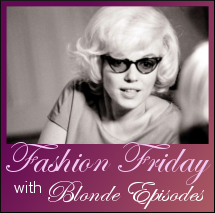 1. Blog about anything fashion related (please make sure it's a current post from today forward and only link back to one of your posts)
2. Grab my NEW button above and link back to Blonde Episodes
3. Add your link to the link up
4. Leave me a comment letting me know you were here!
5. Visit other blogs on the link and make new friends!