It's my favorite day of the week again--Fashion Friday! I hope you can link up with me on this long weekend...in the spirit of Summer and the holiday weekend, I thought I'd share my love of sunglasses. It's impossible to be fashionable without a fabulous pair of shades. My favorites are Chanel of course, but I love so many, I could have a million pairs! What about you? Which are your favorites? Do you wear traditional black, or more fun red, white, etc.?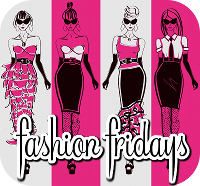 This is a blog hop...please follow instructions so I don't have to delete your link:
1. Leave a comment here on this post
2. Take the button and link back to this blog
3. Add your link to the list
4. Visit other blogs to meet new friends!