Good morning! So much has been going on lately, I wanted to use today's post to update you all! I have a new
blog
!!! I wanted to set up a separate
webpage
for my writing, so the fabulous Stephanie of Dirt and Lace gave me a makeover on my new author
blog
! It's called
Kori Donahue
. I'd love for you to visit, let me know what you think, and maybe even follow me? I think it came out really great.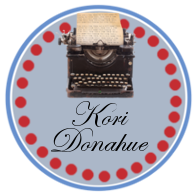 With the new blog focusing on my writing, I wanted to update you all on the book sales. My first novel,
Murder On The Boulevard
is getting great reviews! It is available on
Amazon
in both ebook and paperback format. It should also be available very soon for the Nook!
If you haven't entered my
fabulous giveaway
including my book, three sets of cards from Inslee Haynes, a scarf from Heather of This and That, and a Starbuck's giftcard, make sure you go
enter
! So much great stuff...anyone who wins is lucky, lucky, lucky!
Lastly, I had a fantastic weekend! I got to see Tim McGraw, Luke Bryan, and The Band Perry in concert with my girlfriends, and got to hang out with my brother and sister-in-law at the beach today! Hope you all had a great weekend, and pretty please go check out my
writing blog
! Have a great day friends.